We all have that spot. The one dedicated to the pile up of handwash or delicate items that need tending to.
Even with the best intentions, the reality is that the silk dress, the woolen cardigan and the power blazer get relegated to the no-wear zone until you have the time – and inclination – to handwash them, or drop them at the dry cleaner.
With regular dry cleaning though, comes a bigger environmental footprint and more harsh chemical solvent wear and tear on your favourite items. Enter: the AEG 9000 series, offering unprecedented care for the life of your clothes.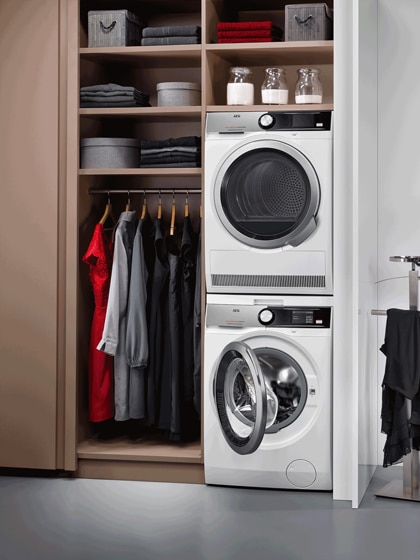 Jessica Baird, Brand Manager AEG, says this series allows you to look your best, wash after wash. "Offering innovative at-home fabric care, AEG's 9000 series washing machines and dryers provide more functions than ever before, ensuring a tailored service for even the most delicate of fabrics to deliver expert garment care at home," says Baird.
"90% of the clothes we wash aren't dirty enough to be thrown in the laundry basket, so consider changing your clothing care habits with our AEG guide. At first, it can seem strange to hang your jeans up, rather than throw them into the laundry basket or air out clothes that aren't dirty, but it saves not only water and energy, but also time," she says.
Here, we share our AEG clothing care guide and innovative functions of the 9000 series that redefine what you can expect from your washer and dryer.
Linen
Quick dry and comfortable to wear, linen is a resilient fabric that can be machine-washed. There is sometimes a danger of the fabric shrinking, so you are best to wash on cooler temperatures. As for ironing, for the best results, press linen items straight out of the wash while still damp. To make this effortless, you can add AEG's ProSteam technology to the end of a cycle reducing creases and ironing by up to a third.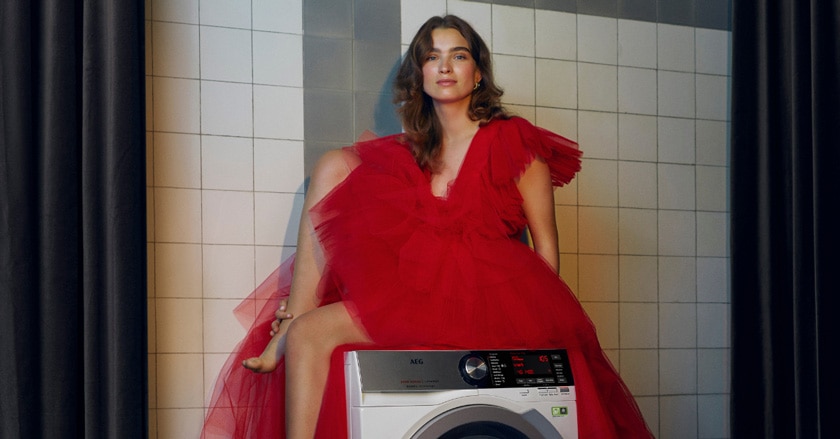 Denim
The wardrobe classic is also a durable fabric, which means you need to wash your jeans and other denim items less frequently than you may imagine. A 2015 report issued by Levi's recommends washing jeans every 10 wears "instead of every two times, reducing energy use, climate change impact, and water intake by up to 80%." When you do, wash dark jeans inside out as the fabric fades especially from surface contact with other garments. Between washes, spot cleaning with a damp cloth can tidy up any spills, or use AEG's Steam Refresh program, which revives your clothes in 30 minutes without detergent and water, ensuring less wear and tear on your garments and on the environment.
Silk
Lustrious and lightweight, silk appears fluid and delicate. Because of this, typically you'd need to handwash with a specialist detergent in lukewarm water, without soaking as this can release some dye, followed by drying lying on a towel to absorb excess moisture. Now with the AEG 9000 series washer and dryer you don't need to. Its specific silk wash program keeps the silks aloft in the cradle movement of the drum to guard against wear and tear. At the same time our SensiDry heat pump dryer with AbsoluteCare System is as gentle as natural drying, so silks retain their shape and come out with even fewer creases than natural air drying.
Drag image to view overall


Cotton
The breathable natural fibre in crisp dress shirts, or soft jersey tees, cotton can shrink if washed at high temperatures. AEG's ÖKOMix technology gives you the same cleaning performance with a 30°C wash cycle as you get with a 40°C wash cycle on other machines. It also blends detergent in water before entering the drum so every garment in every load is reached and cared for – protecting from any laundry residue stains typical on cotton. A tip for drying cotton t-shirts? Fold to avoid hanger marks and stretching them – gravity can pull cotton t-shirts out of shape.
Wool
The warm fuzzy breathable natural fibre, wool washing typically requires moderate temperatures and specialist detergent. But now you can wash your hands of hand-washing and extended drying times with AEG's specialised wool programs, independently certified by Woolmark for wool care you can trust. As for storage, fold in drawers with mothballs and consider investing in a clothes shaver, as even the highest quality wool will pill after time.
THERE IS MORE TO DISCOVER