How a single appliance is making Australians better cooks

It's like cooking with magic, except there's nothing otherworldly about it. Scientifically precise temperature control means everything cooks perfectly without fail.
While at the turn of the Millennium, the kitchen counters of bougie home cooks in Australia might have displayed two gadgets: a high-tech blender and chef-grade mandolin slicer – in the 2020s, modern Aussie kitchens need only this appliance that can handle it all.
Meet the AEG 5-zone Hob2Hood induction cooktop, the single appliance propelling the trend of cooking for entertainment and self-expression, making Australians better home cooks. By eliminating the drudgery of hard work, the cooktop has made cooking for pleasure – a hobby even – an option. This is very much a pro tool.
If cooking over fire is about feel, cooking with induction is about faith. Thanks to the AEG line of appliances, you can build a creative kitchen that not only performs but challenges the expected.
It's the kitchen equivalent of driving a Tesla
If you're the tech-savvy sort who gravitates toward a high shine touch control induction model, complete with gourmet guided cooking, you won't be disappointed. The German-designed appliance gives your cooking speed, precision and versatility, plus the unique in-built Hob2Hood function means the cooktop speaks to your
compatible rangehood
– automatically adjusting the settings – so you can focus on cooking.

Making a "special" dinner after a long workday won't be a chore

No more twiddling your thumbs while your stove takes its sweet time to boil a pot of water. The induction power function boosts your cooktop so it does it in almost half the time, which means your chilli crab linguine with vodka sauce will go from pot to plate faster, too. Plus, the FlexiBridge cooking zone switches to three pre-set temperatures: high, medium and low so you can simply move your pan to seamlessly go from boil to simmer.
You will never burn a dish again
The AEG cooktop offers precise and controlled temperatures, achieved by touch slide controls, especially convenient for dishes that need low, slow, and even heat, like caramelising, consommé, tempering chocolate and making stock. The Automax function also brings your zone up to the boil and then will reduce it to your pre-selected power level for the remainder of the cooking time.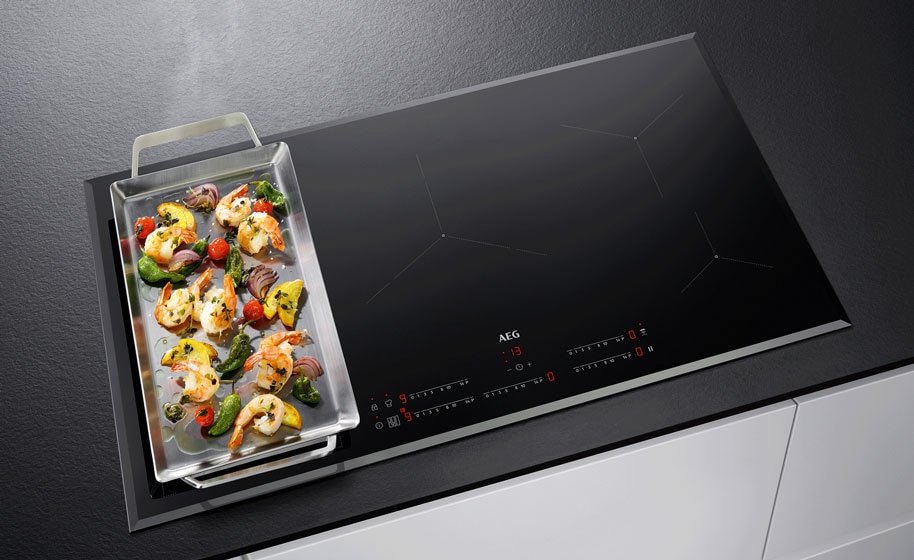 It's forgiving when your cooking gets interrupted
When the doorbell unexpectedly rings, the AEG cooktops lets you press pause on your cooking. The Stop+Go function reduces all zones to a 'keep warm' temperature – then returns to your previous setting when you're ready.
It's ingenious for households with small children
The cooktop remains cool to the touch no matter how high the temperature it's on, due to the nature of electromagnetism.
THERE IS MORE TO DISCOVER