If you've come to expect your rangehood to make listening to a conversation futile when searing an eye fillet, or pan-frying crispy skin salmon, then prepare to be pleasantly surprised.
Challenging the expected is built into our DNA at AEG, meaning a quiet kitchen is no longer a remote possibility. Enter our new quiet off-board motors for rangehoods.
What is a rangehood?

The rangehood's job is simple: to remove air pollutants from your kitchen so you can breathe fresher air and not continue to smell last night's dinner, outstanding as it was. With AEG always looking forward, always an idea ahead since our 1887 founding, it's a technology we've been perfecting for decades.
What are the benefits of quiet rangehood?

Rangehoods and other gadgets that depend on airflow are historically difficult to keep quiet because blocking the noise physically also blocks the air and renders the appliance useless.
This new AEG innovation reduces noise at the source, since the off-board motor sits externally to the kitchen, meaning there is less noise that makes its way inside. What you get is all the benefits of a high-quality powerful rangehood, without the accompanying noise.
How do you install it?

It's the off-board motor that makes your rangehood whisper quiet. Installing the motor in the ceiling cavity and venting out through the roof or wall, will give you a quieter cooking experience without comprising power.
This is done in two ways:
1. Internal – the motor is installed within the gap between your ceiling and the roof. The exhaust then goes through the roof or wall exiting the house as displayed in this video.
2. External – the motor is installed on the external wall of the house as displayed in this video.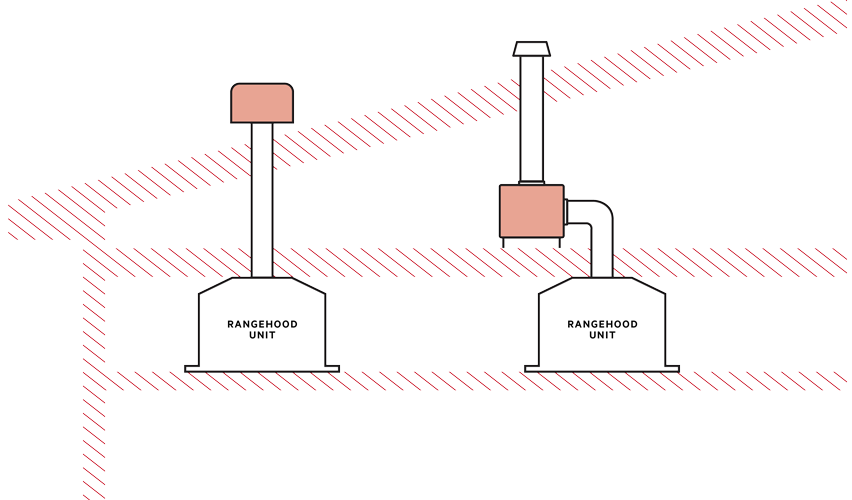 External compatible rangehoods
Save $300 $ 2,699 $ 2,999
Save $400 $ 3,199 $ 3,599
Internal compatible rangehoods
Save $200 $ 2,199 $ 2,399
Save $300 $ 2,699 $ 2,999
How do you maintain it?
All AEG rangehoods are also equipped with durable stainless steel baffle filters, those grooves on filters that do the heavy lifting of removing oil particles and debris from the air. The filters can easily be removed and washed in the dishwasher to ensure your ventilation stays in peak form.
The new quiet rangehoods come with our trademark 5-year AEG warranty, along with optional end-to-end installation solutions via professional installation experts, Sydney Appliance Installations. If you reside outside of Sydney, our customer service team can provide alternative options.
What this means is your famous crispy skin salmon may linger in your guests' minds, but not in the air.
Learn more about our new quiet off-board motor rangehoods here
THERE IS MORE TO DISCOVER