Whether you fold or roll, use pouches to compartmentalise or line your clothing with tissue paper, packing a suitcase is an artform. The savvy traveller needs to be prepared for impromptu formal dinners as much as cancelled flights or unexpected delays. Then there are long-haul business flights, which require you to go seamlessly from tarmac-to-meeting, and making sure your day-to-day pieces like cashmere coats and jumpers and box fresh t-shirts, stay, well… box-fresh. No matter the circumstance, the goal should be to arrive with a perfectly packed, crease free suitcase.
According to the travel experts at Qantas "tightly roll your clothing instead of folding and stacking it. It's a good idea to roll up belts so they don't get crushed and to fold shirts and clothing that crease easily; place these at the top of the case to keep them from getting wrinkled."
But it's not just about packing. Making sure your clothes are fresh and crease free before you layer them into your suitcase is as important as is how you treat them when you unpack at your destination. Follow the AEG guide and learn to pack like a pro.
Seasonal clothing
It goes without saying that all clothes should be fresh and clean before being packed. Seasonal clothing like woollen and cashmere jumpers that have been stored away should be given a quick refresh before packing. This doesn't mean a trip to the dry-cleaners or a busy day handwashing. Instead, most modern washing machines, like the AEG 9000 series front load washer and the 9000 series 3D-Scan heat pump dryer, can gently care for even very delicate 'hand wash only' fabrics. This means you can often wash garments (quickly and stress-free), by simply selecting the Delicates or Hand wash programme. The Woolmark certificate on AEG washing machines means you can freshen your woollens in the gentlest possible way.
Freshen up
According to research from the Electrolux Group, "it's clear that people often wash their clothes simply because they don't feel fresh". You don't have to wash all items before you pack, but rather you can use steam to refresh clothes. Clothes that have been in your wardrobe for a while might feel stale, but they aren't dirty, and seldom need a full wash. Airing them out or steaming them instead is usually enough to make them feel fresh again. Instead of washing, use your AEG Pro steam programme and freshen your garments in just 25 minutes.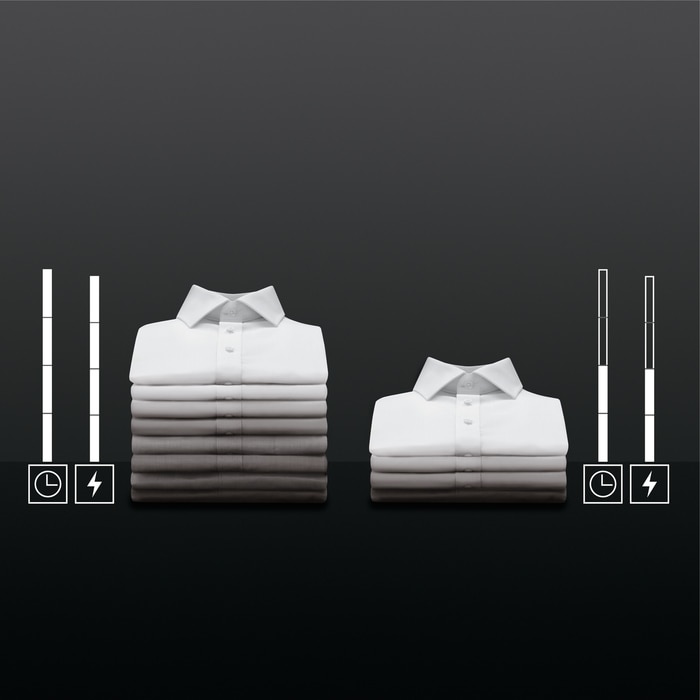 Smooth and wrinkle-free
The best way to avoid creases and guarantee a fresh holiday is to make sure your clothes have been ironed and pressed beforehand. However, you don't need to spend hours ironing before your travels. Use your AEG Pro steam function to not only freshen your clothes but also iron out the creases… without ironing.
THERE IS MORE TO DISCOVER